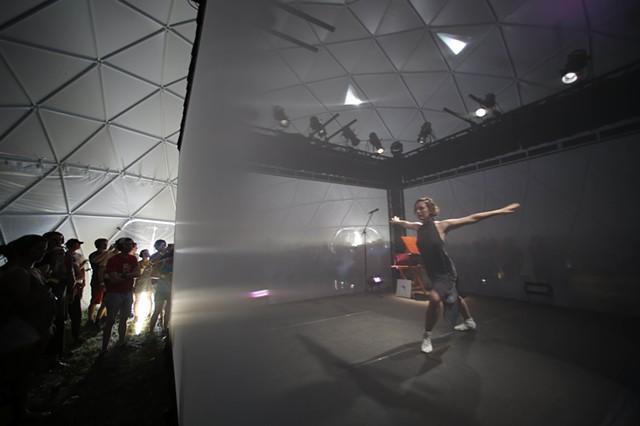 MY CHOREOGRAPHY LOOKS FOR WAYS TO MAKE THE CONSTRUCTION OF THE SUBLIME VISIBLE. I WAS ALWAYS FASCINATED BY WATCHING BALLET FROM THE WINGS. THE ETHEREAL IMAGE OF THE SOLOIST COMBINED WITH HER AUDIBLE BREATH AND MUFFLED TAPS OF TOE SHOES. GLISTENING RHINESTONES MIXED WITH FLOATING BEADS OF SWEAT SPIRALING IN FRONT OF STAGE MANAGERS ON HEADSETS. SHIN BULBS BLURRING THE IMAGE LIKE HEADLIGHTS. I WANT TO SHOW THE EXHAUSTION BEHIND PHYSICAL EXACTITUDE AND PRECISION IN ORDER TO MAKE WAY FOR SIGHS OF RELIEF. LIKE MY MOTHER'S SPENT BODY AMIDST THE RUBBLE OF WRAPPING PAPER AND DISHES STILL TO BE WASHED ON CHRISTMAS DAY. ELEMENTS OF TENSION, TINY EXPLOSIONS OF MOVEMENT, AND STILLNESS INTERTWINE WITH A KIND OF ROMANTICIZED HYPER REALITY. LIKE SEPIA PHOTOGRAPHS IN WAL-MART LIGHTING. AN EFFORTFUL BEAUTY.


CONNECT WITH US!
HELP SUPPORT US!
"A STAND OUT . . .IMAGISTIC"
Durham Indy Week
"SURGING AND LUSH"
Philadelphia Inquirer
"BEAUTIFUL COMPOSITION"
Milwaukee Magazine
Please support DAWN SPRINGER DANCE PROJECTS through a tax-deductible donation to Arts Wisconsin, a Wisconsin 501c3 organization acting as our fiscal receiver.
Checks should be made payable to Arts Wisconsin, with a note identifying the donation to be directed towards DAWN SPRINGER DANCE PROJECTS and sent to: Box 1054, Madison, WI 53701-1054.
Contact Arts Wisconsin at 608 255 8316 or info@artswisconsin.org if you wish to donate via credit card (VISA/MC).
Thank you for your support!